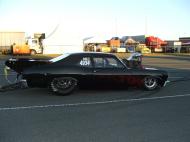 News: AJ481X has Steel rods


Extreme has proven that steel connecting rods can be used in a blown alcohol 481X motor, although many "experts" said it cant be done.
The Nova's AJ481X motor ran the whole season with no engine repairs at all, not even shimming the valve springs. The motor stayed in the car the whole time and still has the original, untouched, rod and main bearings that it was built with prior to the race season. Routine maintenance of checking the oil filter and checking valve spring seat pressures was all that was done throughout the whole 2015/2016 race season. Ben's Nova ran consistent 6 second 200 mph passes all season and ran 6.711 at 210 mph on a 6.71 dial in for the last pass of the season, showing the motor was still in good condition.

This is the second season of racing on the same connecting rods.
Similarly for the 2014/2015 the motor ran the whole season, including all licensing and testing, on the one set of rod and main bearings.