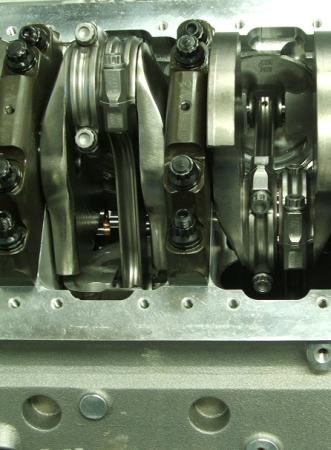 About Us: Steel Connecting Rods


Extreme Performance Engines have developed steel rod Blown Alochol motors to perform at a level where all others have failed. While the rest of the performance industry believe only aluminium rods are to used in Blown Alcohol drag racing, we have proven this not to be true and use steel rods in all of our blower motors.

The benefits of using steel connecting rods is their superior strength and durability. Steel rods are not prone to fatigue like aluminium rods, that can fail at any time. This greatly reduces engine failures and engine maintenance and in turn provides added safety for the customer and reduced cost. We currently have over 220 quarter mile passes on Wayne Batsons 510 cubic inch Supercharged Outlaws motor without any refurbishment to the rods or bolts.

Ben Hoar's 70 Chevy Nova is powered by a AJ 481X motor with custom steel connecting rods and has run a PB of 6.61 at 218 mph. This motor has been in the car for the entire 2015/2016 season with only routine maintenance performed. The same set of connectng rods were used for all of the licencing and testing as well as the entire 2014/2015 race season without the rod bearings being inspected.

Steel connecting rods were used in our blown alcohol big block powered 57 Chevy at Ravenswood in 1993. At 3700+ lb in full street trim running 9.81 @ 148 mph. Same car with different steel rod motor 2011, 9.03 at 158 mph. Extreme's Lamborghini has steel rods in the 357 cube small block Chevy that revs to 9000 rpm.

IRL Indy car motors used steel connecting rods that ran at a constant 11,000 rpm at the Indy 500. Two and a half hours at wide open throttle is a test for even the best engineered components. Some NHRA Pro Stock motors are using custom steel rods, similar to ours, that have over 200 passes with no failures.

It must be noted that there are several key factors that must be considered in making a steel rod work in a Blown Alcohol application. Even the best constructed steel rods can fail if the motor combination is not properly thought out. Dont believe the stories made up by engine builders who cant make steel rods work in a blown alcohol race application. They want to sell you more aluminium rods and charge to rebuild your engine more often than needed. Is that the customer service you're looking for?

WA Supercharged Outlaws state championships:

David James (2004/2005) Supercharged Outlaws
Wayne Batson (2010/2011) Supercharged Outlaws
Greg James (2014/2015) Supercharged Outlaws. Wayne Batson runner up.
Ben Hoar (2015/2016) Supercharged Outlaws. David Biggs runner up.
Greg James (2016/2017) Supercharge Outlaws.